Looking for an XLR microphone? Click here. Otherwise, view microphones by popularity here. 
Live
Recording sound live completely changes the approach you need when selecting the right microphone, and to that end, Heil Microphones has an entire line of products designed specifically for the live experience. If you're recording any kind of live audio, you a microphone to provide the durability required for audience-ready sound and the reliability you can count on during your performance. Here are a couple of highlights.
PR 22
This is one of Heil's most popular live microphones, and with a dynamic cardioid polar pattern, a 1.125" diaphragm and patented isolation mounting, it's easy to see why. The PR 22 delivers a full-bodied sound, eliminating excess noise while sharpening the live sounds it captures.
Moreover, it doesn't sell any part of its frequency range short. Instead, this microphone minimizes feedback and rejects rear noise through special design elements aimed at optimizing input. The PR 22 recreates live sessions with crisp, professional-level sound quality and is available in white and gold colors, priced at $209 and $219, respectively.
PR 35
Ranging in price from $289 to $349, the PR 35 is a stunner right from the off, thanks to its matte black rubberized finish. Much like the PR 30 (more on that particular model later), this microphone boasts a 1.5" shock-mounted hum-bucker and a voice coil designed to minimize handling noise and other interference.
Never worry about overload or feedback with this microphone either, as it offers a low-cut roll-off switch that prevents those troublesome low-end feedback loops. Although marketed as a live microphone, the PR 35 is actually versatile enough to capture the same pristine sound in the recording studio as it does during a live performance.
Recording
When you're recording any kind of audio — whether it's music or a podcast — you need a microphone that can handle the full range of sound with ease. Because the change in environment can yield a noticeable difference between live performances and those shaped in the studio, your best bet is to tailor your microphone for the your specific application. In fact, Heil has several microphones built for the recording studio. Let's learn a bit about some of the best.
PR 31 BW
There's quite a story behind the PR 31 BW. This microphone was actually designed in collaboration with its namesake, Bob Workman, the front-of-house engineer for the Charlie Daniels Band. Although initially designed as a smoother alternative for the PR 30 (at least in relation to certain instrumentation), the PR 31 BW has much wider application than just being mounted to toms or cymbals.
At just 4 inches tall, this tool is light and convenient enough to take with you anywhere and versatile enough to be used for many kinds of instruments and, of course, vocals as well. Perhaps best of all, it sidesteps the potential for overload, retaining clarity no matter what it captures.
PR 40
Heil Microphones has a ton of dynamic microphones in its repertoire, but none truly compare to the frequency range that the PR 40 carries. And at a price ranging from $329 to $399, this tool had better offer something special to users. Its construction consists of careful implementation of phasing plug placement, a 1" low mass diaphragm and custom magnet metals, all tailored to allow for maximum frequency.
But the PR 40 takes it even further, shock-mounting its diaphragm to de-couple it from the body and adding in dual mesh screens with different diameter screen apertures. It captures every nuance — and the entire range — of your voice without distortion.
PR 781
Don't be fooled by the relatively small size of the PR 781. This dynamic microphone, priced at $220, offers the ability to capture a wide range of audio. What makes the PR 781 distinctive is its wide frequency response, which underscores Heil's own mission statement to absorb the fullest sound it can with each and every one of its products.
If you're looking for a premium microphone to reproduce the full power of your audio, the PR 781's rear noise rejection and vocal articulation make a compelling case for why this is the tool you need for your project.
Broadcast/Podcast
While many Heil microphones are tailored to either live performances or for use in the recording studio, the nature of podcasting — or, really, any form of broadcasting — requires something a little bit different to achieve optimum output. More podcasts are popping up every day, and Heil Microphones has wisely devoted an entire subset of its product line to cater to podcasters and traditional broadcasters alike. Here are just a few of the leading microphones the company has created.
PR 77D
Whether you broadcast your show live, in a professional studio or even at home, the PR 77D delivers consistently smooth results across a wide frequency range. With a 1" low-mass voice coil, you'll enjoy low intermodulation distortion, a tight transient response and speech articulation that really brings the richness into every episode you produce. The PR 77D also rejects any rear noise over -40 dB, and this model allows users to switch between Voice and Music modes depending on how it's being used.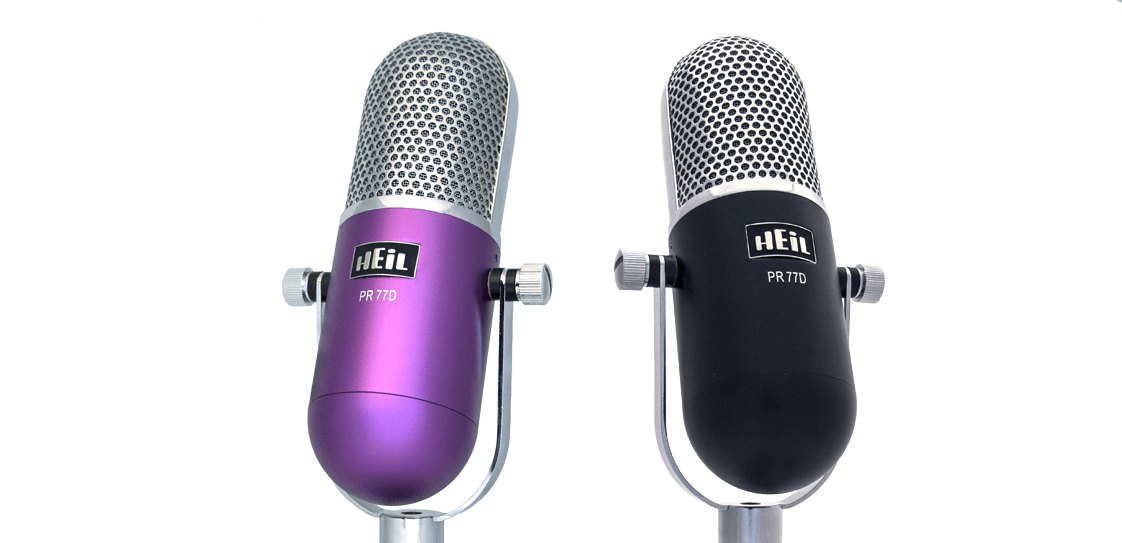 PR 30
We promised to delve into the PR 30, and here we are. With a shock-mounted 1.5" low-mass diaphragm and a hum-bucking coil, this microphone eliminates virtually all of those invasive noises that can disrupt the flow of your recording. Its internal passive filtering capability and unique screen design also help to reduce vocal popping and sibilance, and the PR 30 smashes through the standards set by ribbon microphones due to its ability to withstand astounding sound pressure levels.
PR 20
Striking the perfect balance between sound quality and durability, the PR 20 is a dynamic microphone with a large diaphragm and, like many other Heil microphones, much of its focus is on reducing feedback and excess noise. Any microphone worth its weight offers the capability to direct its power toward amplifying and capturing the inherent complexity of the human voice, and the PR 20 certainly does just that. Best of all, this microphone is priced as low as $200, making it a tremendous value.
Conclusion
Once you assess your own specific recording needs, you'll be able to evaluate which of the Heil microphones would serve you best. Thankfully, because of the range of products the company offers, the right Heil microphone is likely out there. The challenge ahead is simply to identify the ideal cross-section between price, features and actual need. Be honest with yourself, and don't feel pressured to overindulge on your microphone if it won't factor into either your current recording setup or your future plans.