USB Microphones
C01U Pro
We've already mentioned Samson's deep history with USB microphones. As the world's first USB studio condenser microphone back in 2005, the C01U set a new standard for professional audio equipment. Now the C01U Pro pushes that quality even further, adding a headphone output for zero-latency monitoring as well as an improved signal-to-noise ratio. With this microphone, you're ensured the same rich vocals that made Samson so huge in the first place.
C03U
In the same tradition as the C01U, this multi-pattern USB studio condenser microphone includes an analog-to-digital converter, a smooth frequency response and, best of all, dual 19mm internally shock-mounted diaphragms that present you with everything you need to capture all the detail of your audio. You can choose from three distinct polar patterns — cardioid, omnidirectional and bidirectional — so that your microphone is ready for action no matter what.
Go Mic
If you are a frequent traveler but aren't willing to compromise your audio, this is the ideal microphone for you. The Go Mic, as its name implies, is the on-the-go solution to getting your audio just right regardless of your location. You don't need any drivers to get started. Just clip it on your laptop and start talking. Choose from cardioid and omnidirectional pickup patterns to customize your recording experience.
Dynamic Microphones
Q4
For that true professional sound, the Q4 includes a wide array of features that make it a great fit for any kind of recording. Accuracy is at the heart of this microphone, as its neodymium dynamic element can surely attest. With a supercardioid polar pattern and off-axis rejection, the Q4 captures every bit of your performance without the bits you don't. Plus, its die-cast body and steel grill make it a microphone that is clearly built to last.
Q6
Another of the popular dynamic Samson microphones, the Q6 boasts many of the key elements as the Q4. This time, it's all just enhanced for a more professional-grade sound. For example, the frequency response is even smoother this time, ranging from 50Hz to 15kHz, and the Q6 can handle sound pressure levels up to 134dB, covering even those close miking situations. For many users, the Q4 is definitely powerful enough to handle their needs. If not, enter the Q6.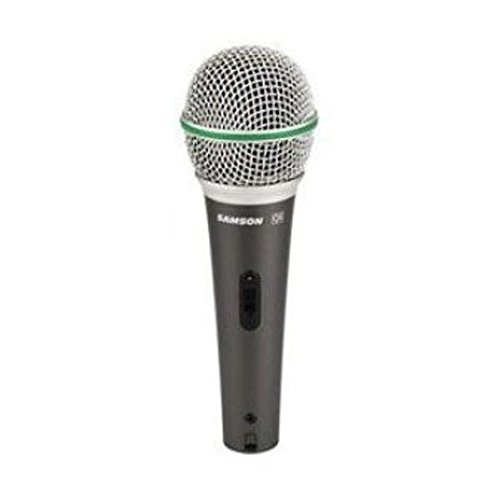 Condenser Microphones
C01
If you need the power of a condenser microphone with a large, dual-layer 19mm diaphragm, the C01 has you covered. Armed with a cardioid pattern, this microphone uses two ultra-thin sensor membranes to create a deep, detailed and extremely competitive sound. The C01 delivers premium audio with a consistently flat frequency response, warm bass tones and extended top end. And it comes loaded with premium features like an XLR connector a built-in swivel mount.
C02
The C02 pencil condenser microphones are so compact that every package includes two units. Yet, despite its size, the C02 is well-suited to live performances and the recording studio alike, utilizing optimal transient pickup and generating a linear frequency response. Because it carries a cardioid pattern, it naturally filters out excess noise and elevates the target audio at the same time.
CL7a
In part because of the breadth of its large diaphragm, this condenser microphone focuses on striking a tight balance between old-school durability and a smooth, modern sound. A custom-tuned condenser capsule is the most likely culprit behind the CL7a's distinctive flavor, and the output makes it the perfect fit for nearly any project you can imagine. Yes, including podcasting.
MTR101
A large 1" diaphragm gives this studio-level condenser microphone a dynamic sound that is rarely beaten by others on the market. The MTR101 takes full advantage of its cardioid pickup pattern — handling sound pressure levels up to 137dB — and its internal shock mount eliminates the potential headache of having to isolate vibrations and other noises in post-production.
Ribbon Microphones
VR88
Ribbon microphones — which rely on the electrical conduction of a thin piece of metal — have been around since the 1920s. But Samson's VR88 takes this classic technology into the modern era, including the ability to handle sound pressure levels of up 137dB. This microphone features a bidirectional polar pattern as well as a field-effect transistor (FET) amplifier and transformer to create rich, natural audio output.
Headworn Microphones
DE10
Most headset microphones offer the limited immersiveness of a single-ear unit. But Samson Microphones is committed to creating a better experience than that. Accordingly, the omnidirectional DE10 embraces a comfort-first design that covers both ears, allowing you to focus on your conversation without the distractions that may surround you. Although it may not be as dynamic as other Samson microphones, the DE10 is easily one of the best of its headworn variety.
DE50
Like the DE10, this condenser microphone offers a double-ear design and an omnidirectional pattern, but the DE50 emphasizes comfort even moreso than its colleague. It has a moisture-resistant feature to ensure that you don't have to deal with any perspiration while you're in the middle of a passionate conversation. Moreover, it won't slip off at any point, causing you to lose your train of thought.
SE10
With any headset microphone, discretion is key. So, naturally, the SE10 boils down everything you love about Samson's condenser microphones into a compact little package. A 3mm capsule allows for audio reproduction pristine enough for any application, and the omnidirectional nature of the microphone — coupled with the four windscreens designed to minimize unwanted noise — ensures that your message gets across every time.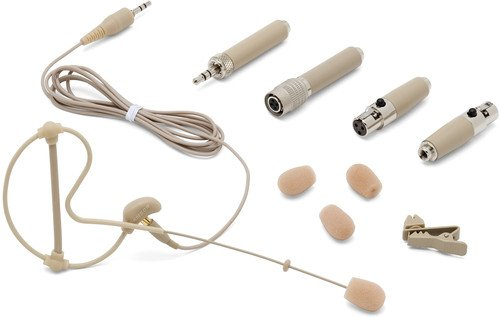 SE50
This mico-miniature condenser microphone features a 2.5mm capsule and fits on either ear so snugly that it won't move no matter how much motion occurs during recording. The SE50 also comes with four adapters so that you can have the option to connect to a wireless transmitter. With an omnidirectional polar pattern, this microphone will capture every detail in your performance.
Lavalier Microphones
LM10
Although Samson's lavalier microphones are thus far limited to this single model, the LM10 makes up for it with considerable features. With a 3mm capsule and lightweight clip, this omnidirectional condenser microphone is perfect for capturing audio, whether you're using a transmitter or not. Regardless of where the capsule is located, the audio pick-up is consistent and crisp all the way through.
Conclusion
Although it is easy to be overwhelmed by the extensive variety of Samson microphones, consider this list as your first step towards establishing which product best fits your recording needs. If convenience is your priority, then the company's signature USB microphones are probably your best bet. But for perfectionists, Samson has a full selection of premium dynamic and condenser microphones to choose from. With as many options as the company has, you are bound to find what you're looking for.
Looking for a cardioid microphone? Click here to view models by popularity. Want to learn how to make your own pop filter for your mic? Learn how here.