What is an XLR microphone?
Funnily enough, an XLR microphone is one that connects to other devices via an XLR cable, rather than, say, a USB cable. An XLR cable, like the one below, is a circular cable with (in most cases) three pins. The male connector (with the ajutting pins) plugs into the female connector.
XLR cables are crucial in many recording settings, which require long cables to transport the sound from device to device. In music concerts, for example, XLR cables trump USB cables because they transmit the audio via the balanced XLR lines to various pieces of audio equipment, a feat of distance that could not be achieved with regular USB lines.
The trade-off, however, is that an XLR microphone can't plug directly into your computer because no computers have an XLR socket. Therefore, if you buy an XLR microphone you'll also need to buy an interface to connect into, which you then connect into your computer.
Our recommendation: XLR microphone or USB?
Below, we go into detail on the differences between an XLR microphone and a USB mic, but for new podcasters we can shortcut it and say you're probably better off going with a USB microphone. Why? They're cheaper and simpler. And if you don't need your mic for anything other than your podcast, you're unlikely to need an XLR microphone for the foreseeable future.
The differences between a USB and XLR microphone
1. Simplicity vs. Versatility
For starters, USB microphones are simple but one-dimensional, whereas an XLR microphone is complicated but versatile.
With the USB microphone you get the advantage of its plug-and-play functionality. You literally just plug it into your computer and start recording, with no need for an interface or any other equipment to get started. This is great for podcasters who don't have any elaborate recording needs. Not only does it make the recording process easier, it also keeps your costs down because you don't have to invest in any equipment other than the mic.
But the simplicity of the USB mic has its downfalls and what the XLR microphone lacks in ease it makes up for in its versatility.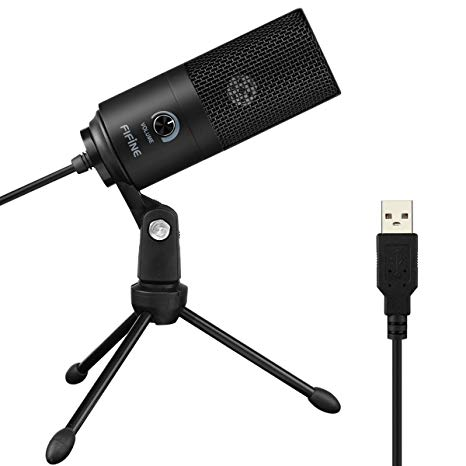 Once you're setup for an XLR microphone — that is, you have the interface, the cables you need, and any phantom power requirements — the world is your oyster. You can:
Upgrade to mid-range and top-tier mics as your show grows and only need to swap out the new mic;

More easily troubleshoot recording issues. Because you're dealing with a more modulated setup, you can isolate each piece of equipment more easily to see what is and isn't working in the recording flow.

Record multiple mics at once. Unlike USB mics, which need the limited ports on your computer to work, with an interface you can use multiple XLR mics at the same time.

Record to a range of devices. While USB mics are good for simply recording into your computer, with an XLR microphone you can record to a much wider variety of devices.
All in all, if you're new to podcasting and you don't want to go all in on a complicated studio setup, your best bet might be to start out with a simple USB mic and upgrade down the track.
2. Affordability vs. Choice
The great thing about the XLR microphone is that you won't have to scour the market long to find one that serves your precise recording needs. XLR cables have been around for so long and manufacturers have developed so many models, with such a diversity of specs, that you really won't struggle finding the one you need.
But with that freedom of choice comes the burden of cost, and a good XLR microphone will cost you more than a good USB microphone. And, on top of the cost of the microphone itself, if you go down the route of buying an XLR microphone you'll also need to invest in an interface to get your recording from the microphone to your computer. You therefore contend not only with a more expensive mic, but a more expensive setup all round.  
3. Consistent performance vs. Quality performance
The great thing about USB microphones is that they produce a consistent sound across different computers, making it a very reliable mic for podcasters. That said, however, assuming you buy a good one, an XLR microphone will produce a higher quality sound. If you're a new podcast host, you probably won't be able to tell the difference in quality between a good USB mic and a decent XLR microphone, so consider this element wisely when you're buying.
Finding an XLR microphone to suit your needs
What should you look for when you're shopping for an XLR microphone? In this section, we'll deal briefly with the main elements you should keep in mind.
1. Condenser or dynamic?
Once you've made the decision to buy an XLR microphone the next big decision you need to make is whether you get a dynamic microphone or a condenser microphone. Both essentially do the same thing — convert sound to an electrical signal — but their process for doing it is slightly different, and there are some differences worth considering. To learn more about each type, and to understand their differences, click here to read our article comparing them.
2. Polar pattern
The polar pattern of a microphone has to do with the direction and angle of the sound it can comfortably pick up. The most common, and the one all podcasters likely depend on, is the cardioid polar pattern (or a version thereof). Quite reasonably, the cardioid polar pattern best picks up sound that hits its capsule from the front, and doesn't do a very good job of picking up sound from the sides and (especially) from behind. Therefore, when you're shopping for a good XLR microphone, make sure it comes with a cardioid (or even a hypercardioid) polar pattern.
3. Equivalent noise level
A microphone's equivalent noise level or self-noise level, to which it's sometimes referred, is the level of noise a microphone itself makes as it's recording. You've no doubt heard "noisy" mics before, which emit their own humming, white-noise sound in the background of whatever else is being recorded. When you're shopping for an XLR microphone, make sure you choose one with an equivalent noise level or self-noise level as low as possible (below 20 "dB-A" is good, below 15 "dB-A" is better, below 10 "dB-A" is the best).
 Conclusion
An XLR microphone is the perfect option if you're an advanced podcaster with several years recording under your belt and grand plans for world domination. But if you're a new podcaster and you don't want to invest a lot of money or time into your equipment just yet, we strongly recommend that you start off with a USB microphone.
Looking for a new microphone? Start by looking at the models of some of the more popular brands, like Heil Microphones or Avantone.